Saronic Gulf – 7 Days
Aegina island was the first capital of Greece after the Turkish dominion. Aegina is one of the Argo Saronic gulf islands located south west of Piraeus.
Enter into the bustling port of Aegina town and drink in the view: a moon crescent harbour with fishing boats, fruit filled caiques and glamorous yachts. Once on Aegina you can enjoy island life but easily leave for day trips to other neighboring islands. A short distance from Aegina is the charming neighboring island of Agistri. There are many lovely beaches scattered all across the island where you can enjoy a refreshing swim. Epidavros is surrounded by deep blue sandy beaches. The Ancient Theater of Epidavros is found built at the end of the 4th B.C. century at the slopes of Mountain Kinortio, with a capacity of 13.000 seats, which is well known for its architectural and acoustics perfection. Spetses is a small island very close to the Peloponnese coast with a rich historical background and beautiful scenery. On to Poros which is different from other Greek islands because of it's lush native pine forest which still covers most of the island. The island of Hydra is the most famous island of the Argosaronic bay with its' cosmopolitan character promises unforgettable moments at all seasons.
Lavrion – Aegina 46 NM
Aegina – Hydra 28 NM
Hydra – Spetses 17 NM
Spetses – Poros 25 NM
Poros – P. Epidavros 15 NM
P. Epidavros – Lavrion 57NM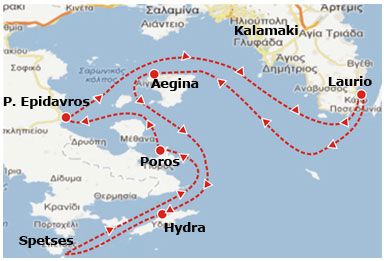 Cyclades & Saronic Gulf – 14 Days
Cape Sounion is one of the most famous and picturesque places in Attica. The cape is located 69 km southeast of Athens. The Temple of Poseidon, built on a site set back from the sheer cliffs and with its magnificent view of the Aegean Sea and islands, was ideally located for worship of the powerful god of the sea.Serifos, is one of the most traditional islands of Cyclades with graphical sceneries that can impress even the most demanding visitors. . Visitors enjoy the magnificent view from the north side of the island towards Kythnos. You can see Syros in the Northeast, East Paros, Sifnos in the southeast and Milos in the South side. Santorini or Thira is located in the southernmost point of Cyclades.  It is a popular island, with intense night life that attracts thousands of visitors each year. Ios is well known as the party island with the lively atmosphere and the endless fun. Folegandros is a small, charming and sunny Aegean island. The natural beauties and the warm hospitality of its residents, have turned the island into a popular travel destination. It is the perfect place for those wanting to relax. Next stop Milos covered with small and sandy beaches, marine caves and geomorphologic forms of volcanic inspiration. Towards the end of the voyage visits to Hydra, Poros, P. Epidavrus, Aegina and disembarkation in Lavrion.
Lavrion – Cape Sounion 7 NM
Sounion – Kythnos 25 NM
Kythnos – Serifos 23 NM
Serifos – Sifnos 11 NM
Sifnos – Ios 37 NM
Ios – Santorini 20 NM
Santorini – Folegandros 26 NM
Folegandros -Milos 35 NM
Milos Hydra 64 NM
Hydra – Poros 14 NM
Poros – P. Epidavros 21NM
Epidavrus – Aegina 14 NM
Aegina – Lavrion 46 NM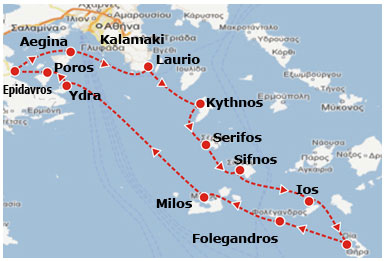 Dodecanese – 7 Days
The Dodecanese (Greek Dodekánisa means 'twelve islands') are a group of 12 larger plus 150 smaller Greek islands in the Aegean Sea. Nisyros Island is a lava sculpture made from its unique active volcano in the east Aegean Sea, curved by pumice stone and red rust, the same material used for building its houses, holy temples and castles. The beautiful and historical island of Tilos with it's 19 beaches, 12 mountains with natural flowing springs offer their spectacular vies and 7 Medieval castles will impress you by taking you back to other times. Just a few miles west of Rhodes, lies the wonderful island of Halki also known as the 'Center of Peace and Friendship'. With only one village, a couple of roads, and no disco's. You are guaranteed a truly relaxing 'away from it all' holiday. Rhodes is called "Pearl of the Mediterranean" is one of the most interesting islands of the Aegean Sea not only for its natural beauty but also for its archaeological treasures. On to Symi, small and picturesque, being the 8th biggest of the Dodecanese group. Last but not least Kos, a place where antiquity and modern civilization find themselves in unison. According to sources, the homonymous ancient capital of the island was one of the most beautiful coastal towns in the ancient world.
Nisiros – Tilos 20 NM
Tilos – Halki 17 NM
Halki – Rhodes 36 NM
Rhodes – Symi 23 NM
Simi – Kos 60 NM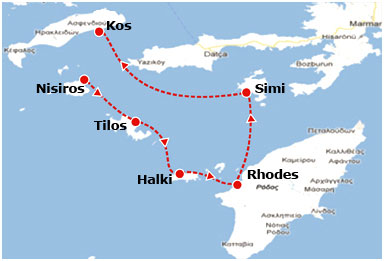 Ionian sea – 7 Days
The Ionian Islands are a group of islands located in the Ionian Sea, off the west coast of Greece. They are traditionally called "Eptanisa" which means "the Seven Islands", but the group includes many smaller islands as well as the seven principal ones. These islands consist of Corfu, Ithaki, Kefallonia, Lefkada, Paxoi, Antipaxoi and Zante (Zakynthos).The islands are well known for their beautiful sandy beaches, crystal clear waters, charming villages and stunning scenic countryside which is verdant and flourishing with greenery and nature.
Paxoi – Ithaki 56 NM
Ithaki – Kefallonia 18 NM
Kefallonia – Preveza 44 NM
Preveza – Parga 27 NM
Parga – Corfu 35 NM